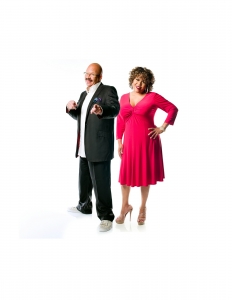 Tom Joyner earned the nickname "The Fly Jock" and "The Hardest Working Man in Radio" by working long hours and flying between his morning job (in Dallas, Texas) and afternoon job (in Chicago, Illinois) every weekday for eight years, collecting over 7 million frequent flyer miles.
Tom Joyner grew up in the town of Tuskegee, Alabama. He is one of two sons. His mother was a secretary for the military and his father served as a Tuskegee Airman. His beginnings were very much like many young blacks in the south. During the Montgomery Boycott, there was the "Tuskegee Boycott". Tom and many others fought for their civil rights. They took their protests to the streets weekly to try and effect change. One such protest was taken to a local radio station that refused to play "black" music. Eventually the station manager relented and Tom (naturally) nominated himself for the position.
Tom Joyner graduated from Tuskegee Institute in his hometown of Tuskegee, Alabama in 1970. He earned a Bachelor's degree in Sociology and immediately began his career in radio. He started at WRMA (an AM station in Montgomery, Alabama). After breaking onto the airwaves there, he worked his magic at WLOK (an AM station in Memphis, Tennessee), KWK (an AM station in St. Louis, Missouri), and KKDA (an FM station in Dallas, Texas).
Eventually, he moved to Chicago – the Windy City. He blew through the Windy City on radio stations WJPC (FM), WGCI (FM), WVON (AM) and WBMX (FM) and caused a whirlwind of excitement on urban radio. Never before had listeners experienced such energy, humor and vitality.
Opportunity came knocking in the mid 1980's. Tom's upbeat style and comedic antics put him in an awkward position. His contract was about to expire and it was decision time. He was offered the MORNING drive time position at KKDA (Dallas, Texas) by one company and the AFTERNOON Disc Jockey position at WGCI (Chicago, Illinois). Any normal human would have chosen one position or the other – Tom Joyner chose to do BOTH! His plan was to fly thousands of miles everyday by airplane each day between Dallas and Chicago. He spent so much time in the air that he received the name "The Fly Jock". This commute and his rich on air style gained him national publicity and high ratings.
In 1994, Tom Joyner took his show to a new level. He knew that if he wanted to reach a broader audience, more "Fly Jockeying" would not do the trick, so he convinced ABC Radio Networks that his show could work in syndication. ABC, impressed with his determination, credentials and following gave it a try. In 1994, The Tom Joyner Morning Show started with Tom Joyner at the helm.
The show is beamed into over 105 radio stations across the country each weekday. Over 8 million ears tune into the show from their favorite local radio station. It is very well known that Tom Joyner likes to have a good time. He says, "First we get people laughing, then we get 'em to listen. If you can get people to listen, then they begin to think, and that's when they start making a difference".
Tom takes radio to a whole new level. Never before have African Americans been able to wake up to such an upbeat, entertaining and positive show. His accomplishments have not gone un-noticed. Tom Joyner was elected into the Radio Hall of Fame. He has received Impact Magazine's "Joe Loris Award" for Excellence in Broadcasting. He has received Billboard's "Best Urban Contemporary Air Personality" award. Impact Magazine's "Best DJ of the Year Award" was renamed "The Tom Joyner Award" because he received it so many times.
Tom did not forget his roots when he signed onto the Tom Joyner Morning Show. He setup a foundation that earmarks dollars for students and schools that have run out of money. The Tom Joyner Foundation has raised more than $60 million to help keep students in historically black colleges and universities. The Foundation, just like the morning show, his website, events and his other endeavors, exists to "super serve" the African American community.
The Morning Show with co-host Sybil Wilkes and senior news analyst Roland Martin, also features "Inside Her Story" with Jacque Reid; political commentary from Stephanie Robinson and Jeff Johnson; and celebrity news with Jawn Murray, as well as comedic observations from D.L. Hughley and the Celebrity Snitch Huggy Lowdown. Joyner's website, BlackAmericaWeb.com, has more than 1.5 million registered users and delivers news with exclusive reports from award winning journalists and unprecedented political coverage as well as interactive elements with on demand audio.